When the heat has you feeling beat, battle the sun with the AIR™ Face Fan! You'll love the breeze it brings to your face.
Say goodbye to hot flashes, sweating, and flushing.
This innovative fan is designed to be worn around the neck so your hands remain free.
Features:
Place Your Favourite Essential Oil: Place a few drops of your favourite essential oil inside the fan and enjoy 
Hand Free Design: AIR™ Face Fan is adopted with hand free design and the grip is made of soft silicone material
Speed Adjustable: The Face Fan has 3 different speed level can adjust, low, medium, high, just need to press the power button to adjust
360° Rotation: Rotate the fan heads in about any direction you want in order to achieve your prefered angle
Long Battery Life: The Lithium battery is built into the fan and is completely rechargeable. When fully charged, the fan will work for over 6 hours!
Silent: Designed for the quietest of situations so whether you are in the office or a 10k run our Face Fan has got you covered!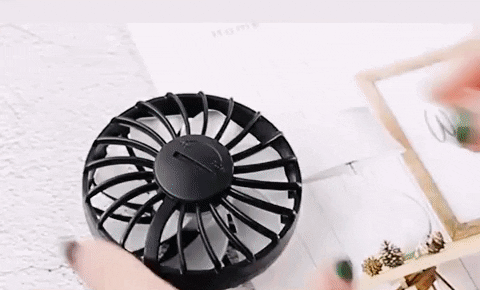 SPECIFICATIONS:
Color: Black/White/Blue/Pink/Green
Size: 260 x 180 mm
Weight: 186 g
Power Source: Micro USB
Battery Type: 1800mAh (DC 5V 1A)
Capacity: 6-10 hours
Worldwide Shipping & 100% Money Back Guarantee.
Our Guarantees:
Not happy with the product? No worries, you're covered by our hassle-free returns policy.
Safe, secure and encrypted ordering. All of your information is GDPR compliant and protected by SSL and banking-grade encryption
Real, live human support if you'd like to contact us
We're backed by thousands of satisfied customers. Check out our reviews below!