"The Fastest Tent You Will Ever Set Up"
Traditional tents are hard to pack, cumbersome to carry, and difficult to set up. With our inflatable tent, you can have your tent ready in a couple of minutes.
Our Inflatable Tent is easy to set up. All it takes is 1 person and 1 air pump which we include.
When your trip is done, just use the purposely large valves to let the air out, this tent is as easy to take down as it is to set up. Packing a Tent has never been so simple!
NO MORE POLES!
Features
Waterproof: Our Inflatable Tent is made of high-quality materials making it the perfect choice for adventures all year round. It also has a 1000-2000mm waterproof rating making it perfect for heavy rain
Lightweight: The tent only weighs 3kg making it perfect for travelling
Ventilation: With 4 mesh windows even on a hot summers day this tent would be perfect. It also prevents any annoying bugs and mosquitos from entering.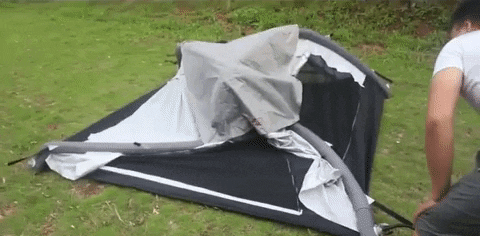 Big Enough For 2-3 People: With a size of 94.5 * 82.7 * 59.1 (in), it is big enough for 2-3 people to rest in.
Portable And Convenient: Easily deflated with 4 valves on each air pole, packed in a pouch for convenient carry during camping, hiking and fishing with friends.
Quick Set Up: It only takes a couple of minutes to inflate with the provided air pump, no extra tool is needed.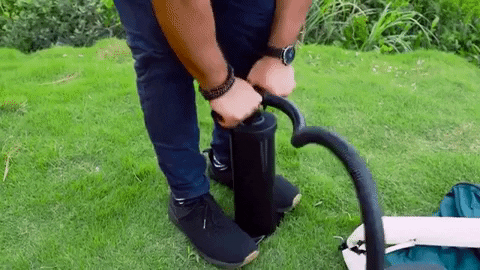 Specification:
Material: Oxford + Laminating 190T 
Unfold size: 240 * 210 * 150cm / 94.5 * 82.7 * 59.1in
Packed size: 50 * 20cm / 19.6 * 7.8in 
Waterproof rating: 1000-2000mm
Tent weight: 3kg / 6.6lb 
Package weight: 3.3kg / 7.2lb
Worldwide Shipping & 100% Money Back Guarantee.
Our Guarantees:
Not happy with the product? No worries, you're covered by our hassle-free returns policy.
Safe, secure and encrypted ordering. All of your information is GDPR compliant and protected by SSL and banking-grade encryption
Real, live human support if you'd like to contact us
We're backed by thousands of satisfied customers. Check out our reviews below!