THE ONLY BAG YOU WILL EVER NEED
Designed for Military and Law Enforcement operators, however, the Tactical Duffle Bag also is a great choice for outdoor enthusiasts. The Tactical Duffle Bag is designed for multi-purpose use and is suitable for the outdoors, hiking, camping travel, daily use and also a good choice for a gift.
The wide and thick padded waist strap helps to relieve back stress, making it more stable and helps to protect your waist from any unexpected strain.
Its 35+ litre capacity makes this Tactical Duffle Bag great for both patrol and advanced tactical duties.
Features:   
Bag Capacity: Don't worry about storage capacity as our Tactical Duffle Bag has a 35+ litre capacity. You will have more than enough space for all your essentials
Quality Materials: Materials on this bag will be sure to stand the test of time no matter what task it is required for.
Double Zipper Head: The two-way quality zipper, with two pulls, allows you to keep the bag zipped from both sides and can be locked with a safety lock.
Detachable Shoulder Strap: With this feature, you can easily attach or detach the shoulder strap and the strap may be worn slung over one shoulder or across the body.
Comfortable Handle: Due to its nylon material you can easily carry it either on shoulders or in hands.
Shoulder Strap Storage Layer: You can put the shoulders strap inside while you are not using it and carrying bag in hand.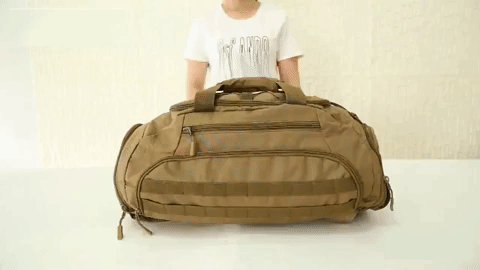 Claim Yours Now And Get It For 50% Off With Free Shipping. This Promotion Is Only for A limited Time So Act Fast. 
Specifications:
Material: Nylon
Size: 54cmx28cmx24cm (LxWxH)
Backpacks Type: Softback
Worldwide Shipping & 100% Money Back Guarantee.
Our Guarantees:
Not happy with the product? No worries, you're covered by our hassle-free returns policy.
Safe, secure and encrypted ordering. All of your information is GDPR compliant and protected by SSL and banking-grade encryption
Real, live human support if you'd like to contact us
We're backed by thousands of satisfied customers. Check out our reviews below!